The activities "Holiday game of fortune", "Letter to Santa" and "Holiday cookbook" are also part of BG-Mamma's Christmas advertising activities and provoke serious consumer interest every year.
Letter to Santa
The project is implemented through a three-week advertising publication and is part of the special "Christmas" landing page of BG-Mamma and was launched at the beginning of December.
The campaign gives an exclusive opportunity for one advertiser to position itself amidst a positive consumer discussion.
The topic will include a challenge for users to share what their children's Christmas letter wishes are for the upcoming holidays. Children's Christmas wishes will be shared by parents over three weeks during the campaign:
Week 1 "Share with us what type of gifts does your child enjoy the most?"
Week 2 "Share your child's Christmas letter with us!"
Week 3 "Visit the advertiser's website and share a link to the gift that will please your child the most"
At the end of the campaign, a few users selected on a random basis will receive prizes. Prizes could be the dream Christmas gifts, shopping vouchers or anything else at the customer's discretion.
Advertising positioning
Positioning in a special BG-Mamma page – "Christmas 2023";
Presentation with description and logo – active link to the site;
100% topic branding during the period with Wallpaper on desktop and Swipe banner on mobile;
Native Banner promoting the post – 600,000 impressions;
Topic announcing on BG-Mamma Facebook page;
Positioning of the publication in relevant groups for the entire period of the project – special page "Christmas", "Shopping", "Parents in Bulgaria" and others;
The post remains in the main topic group, always accessible through the BG-Mamma search engine and indexed by Google Search.
Gross price: BGN 5 000*
Christmas cookbook
For 4 weeks, we challenge the large culinary community on the platform to share their favorite recipes in a purpose-built topic. We invite a proven and respected influencer in our culinary community, who publishes his author's content in the topic.

The project provides an opportunity for the advertiser to position itself among a highly engaged audience and associate its brand with useful content, associating with an emotional occasion such as Christmas;
Advertising positioning
Product advertising by an influential user with text and photos;
Recipes posts by the advertiser with a website link;
Branding of the project and user posts;
Instagram / Facebook posts.
The project will be further promoted through co-branded banner advertising, mailing to 50,000+ registered users, notifications.
Gross price: BGN 15 000*
Holiday game of fortune
The game "Holiday fortunes" is one of the most successful projects among BG-Mamma users.

The game takes place on a separate landing page where every user of the platform can draw a lucky fortune.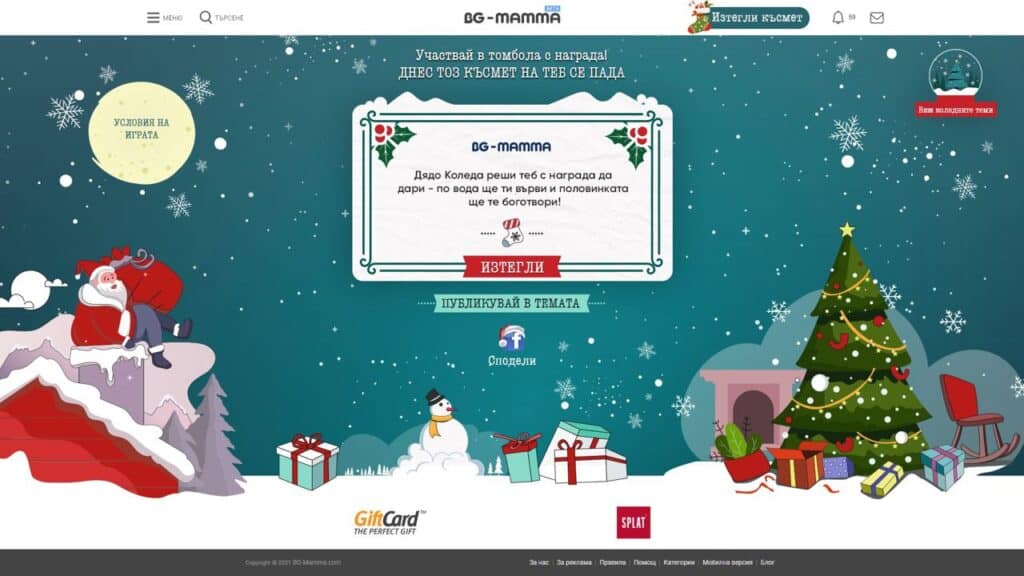 Everyone can share their fortune in a specially created topic on the platform and in their own social networks, and every registered user participates in a raffle with prizes provided by advertisers.

Period: 06 December – 06 January
Advertising positioning
Branding of fortunes with a brand logo;
Placing of advertiser's logo on the game page;
Branding of the project in desktop and mobile;
Brand logo in the advertising banners for platform promotion of the game;
Mention as a sponsor of the Game of Fortune Facebook post;
Gross price (25%): BGN 5 000*
Gross price (50%): BGN 8 000*
* All prices are VAT excluded and subject to a volume or agency discount.